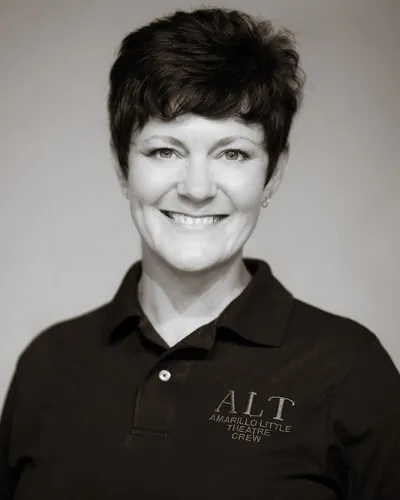 A volunteer for over 30 years, Jo's first role at the Little Theatre was as Hope Harcourt in the1990 production of ANYTHING GOES. She moved to Amarillo in 1990 to do the musical TEXAS. Jo holds a BFA in Theatre from Cameron University. After many years away, she is so happy to finally be working among people who share her passion for theatre!! Some of her favorite roles include Lola in the 1995 Amarillo College Summer Arts Festival production of DAMN YANKEES, Soul Girl in the 1994 production of JESUS CHRIST SUPERSTAR, Multiple roles in the award winning 1995 touring production of BEEHIVE, Sheree in DIXIE SWIM CLUB (2010), Huckaby in the FANTASTICKS (2004), Ensemble in the incredible production of LES MISERABLES (2012), Sonya in VANYA, SONYA, MASHA and SPIKE and most recently as Diane in THE BIRDS and Virginia Noyes in the hilarious production of IT'S ONLY A PLAY, for which she received her first ALTAs.
Jo loves sharing her love for ALT with her Academy students. She is an Academy instructorteaching grades 3-8 in various theatre classes. It brings her great joy to see the growth in thestudents in class and especially watching their lights shine on stage.
Jo is proud to share her love for theatre with her daughter Hana, who was an ALT Academystudent since she was 3 and is now a grown woman who spreads her own passion for theatre.Her husband, Kyle, is an Amarillo Firefighter. The Smith family is rounded out by their Corgis,Piper and Korki.