A Christmas Carol
from the story by Charles Dickens
adapted for the stage by Carrie Huckabay
Performance Dates
December 7, 8, 14 & 15 @ 7:30 pm
December 9 & 16 @ 2:30 pm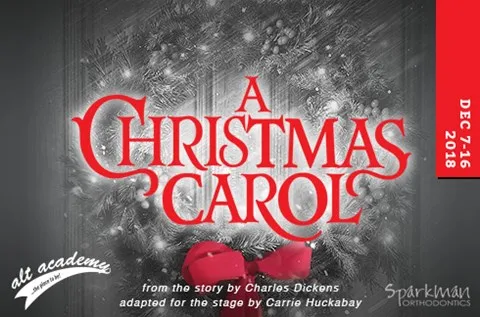 The Amarillo Little Theatre Academy and Sparkman Orthodontics are very excited to present the holiday classic play A Christmas Carol this December.
This is the classic tale of our favorite holiday miser, Scrooge, who is visited by four spirits, including his old business partner Jacob Marley and the ghosts of Christmas Past, Present and Future. Through a series of visits to Scrooge's youth, to the Fezziwig's office party, and finally to a future vision of his lonesome dark grave if Scrooge continues his ways, the ghosts show Scrooge the way to embrace the holidays and generosity.
The Amarillo Little Theatre Academy has assembled a terrific cast to bring this 175 year old classic to life. A Christmas Carol features 65 of our talented Academy students and is directed by Academy Director Jason Crespin. Krystal Burns serves as Assistant Director, Beth Alexander as Choreographer, and Velvet Knight and Noah Lang serve as Production Assistants.
Tickets are $12.00 for 12 and up and $10.00 for under 12. Tickets go on sale to ALT members on November 19th and to the general public on November 26th. This performance will be taking place at the ALT Mainstage. Reservations can be made by calling the ALT Box Office at 355-9991 or online.
Reserve your tickets now to A Christmas Carol. You won't want to miss this Dickens' timeless tale full of the true spirit of Christmas!
Performance location
ALT Mainstage
2019 Civic Circle
Chris & Linda Ray/Rodan & Fields
Purple Flamingo Pops
Palace Coffee
Palace Coffee Cause Latte Program
Glass Doctor & Window Genie of Amarillo
Lizzie Mason & Shannon Williams
Coldwell Banker Commercial/Rachel Shreffler
Amarillo Professional Counseling & Consultation
Baum Outdoor
Joe Taco
Gabe & Kimberly Irving
Anonymous
Amarillo Pediatric Dentistry and Orthodontics
Briar Wilcox Law Firm
My Place Hotels – Amarillo & Lubbock
Sparkman Orthodontics
Stockard, Johnson, Brown & Netardus Law Firm
The Ruffled Cup
Martins Sheetmetal, Inc.
FirstBank Southwest
ALT Guild