Performance Dates
March 23, 24, 30 & 31 @ 7:30 pm
March 24, 25 & 31 @ 2:30 pm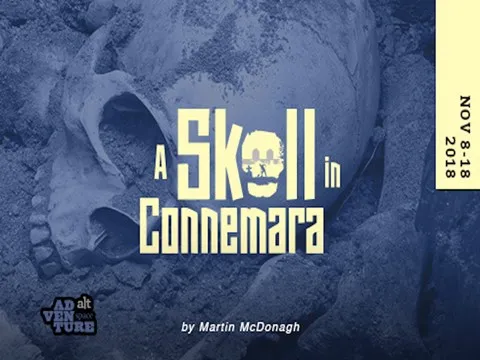 What our patrons are saying about "A Skull in Connemara"…
Just saw A Skull in Connemara at the ALT Adventure Space. I've never been disappointed in this theater. Today is no exception. If you like dark comedies that have minute to minute mood swings from hilarious to the absurd, go see this play. The talkback after the show was enlightening also. Thanks cast and crew.
"A deliciously grim fantasy in a staging as earthy and ethereal as a Tim Burton movie"…Irish Times
Amarillo Little Theatre is very proud to present the gritty, ironic and hilarious play A Skull in Connemara as the second Adventure Space production of the 2018-19 season!
For one week each autumn, Mick Dowd is hired to disinter the bones in certain sections of his local cemetery to make way for the new arrivals. As the time approaches for him to dig up those of his own late wife, strange rumors regarding his involvement in her sudden death seven years ago gradually begin to resurface. Filled with biting humor, this wonderful play is full of jaw dropping surprises and promises to be a thrilling evening of theatre for ALT audiences.
Allen Shankles has cast a brilliant ensemble of fine actors for this darkly comic production. It includes Patrick Burns, Kayden Burns, Shannon Mashburn and Jeff Jarnagin. Assistant to the Director is Kim Shreffler.
This will be a captivating evening of great theatre entertainment for ALT Adventure Space audiences.
Don't miss the Ovation Series Talk Back event on Sunday, November 11 immediately following the show.
Performance location
ALT Adventure Space
2751 Civic Circle
Michael & Roe Gee
Richard & Jo Jackson
Jim Kemp & Whitney B. Kelly
Holly & Steve Parrish
Scott & Barbara Taylor
Minnie Venable
Taylor & Lil Withrow
PRODUCTION FUNDING GENEROUSLY PROVIDED BY
Drs. Tom & Susan Johnson
Kay Paine
Neal Scott
Pattilou Dawkins/Wolflin Mortgage