Annie
by Charles Strouse, Martin Charnin and Thomas Meehan
Rated – PG
Performance Dates
March 23, 24, 30 & 31 @ 7:30 pm
March 24, 25 & 31 @ 2:30 pm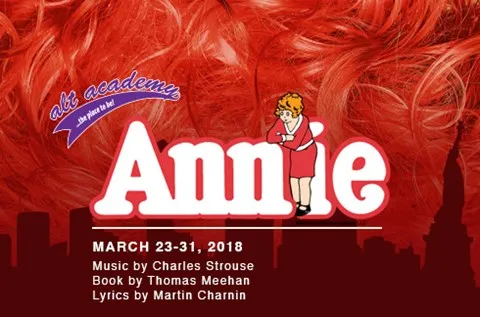 The Amarillo Little Theatre Academy and Sparkman Orthodontics are proud to present the optimistic, family musical Annie. Based on the popular stories of "Little Orphan Annie," this popular musical is the winner of 7 Tony Awards and is sure to warm your heart.
A plucky orphan girl is on a mission to find her parents in 1930s New York City, after being abandoned years ago on the doorstep of an orphanage run by the cruel Miss Hannigan. With the help of the other girls in the orphanage, Annie escapes and experiences adventure in The Big Apple, making friends with billionaire Oliver Warbucks, President Franklin D. Roosevelt, and a lovable dog, until finally finding her forever home. The beloved score for Annie includes "Maybe," "It's the Hard Knock Life," "You're Never Fully Dressed Without a Smile," "Easy Street," "I Don't Need Anything But You" and the eternal anthem of optimism, "Tomorrow."
ALT Academy has assembled a terrific cast to bring this classic musical to life. Annie features 39 talented Academy students and is being directed by Academy Director Jason Crespin. Academy Instructors Brandon Bellar and Reilly Downes serve as Music Director and Choreographer, respectively, with Scenic Design by Tana Roberson. Academy parent Chriselda Reyes serves as Assistant Director and Jamie Humphrey and Kelsey Kilburn serve as Production Assistants.
Don't wait for tomorrow, make your reservations today! You can bet your bottom dollar that you and your family will have a great time at Annie.
Performance location
ALT Mainstage
2019 Civic Circle
Palace Coffee
Johnathan & Tiffany Laur
John & Nancy Turner
The Zavala Law Firm
Baum Outdoor Advertising
Anonymous
Don & Susan Goetz
Brandon & LaDon Brown
PRODUCTION FUNDING GENEROUSLY PROVIDED BY
ALT Guild
Law Office of Todd Henderson
EdwardJones Investments
Steve & Holly Parrish
My Place Hotels – Amarillo & Lubbock
Sparkman Orthodontics
Amarillo Pediatric Dentistry
Briar Wilcox
Stockard, Johnston, Brown & Netardus Law Firm
The Ruffled Cup
FirstBank Southwest
Martins Sheetmetal, Inc.
SPECIAL GIVE BACK PERFORMANCE SPONSORED BY