Baskerville: a Sherlock Holmes Mystery
by Ken Ludwig
Rated – PG
Performance Dates
January 16 & 23 @ 7:30 pm
January 17, 18, 24 & 25 @ 8:00 pm
January 26 @ 2:30 pm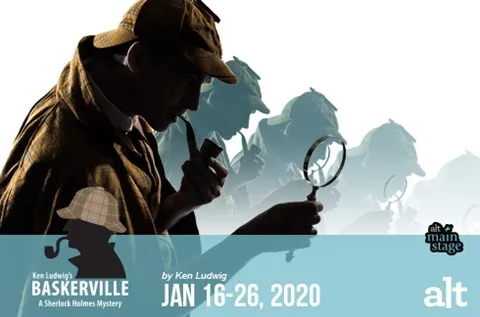 A Sherlock Holmes mystery is the perfect foil for the winter doldrums!
Amarillo Little Theatre is very pleased to present one of the most popular new plays of the season, Ken Ludwig's Baskerville: A Sherlock Holmes Mystery. This delightfully clever new play is going to be a hit with ALT audiences.
Get your deerstalker cap on — the play's afoot! From the award-winning mastermind of mayhem, Ken Ludwig (Lend Me a Tenor), comes a fast-paced comedy about everyone's favorite detective solving his most notorious case. Sherlock Holmes and Dr. Watson must crack the mystery of "The Hound of the Baskervilles" before a family curse dooms its newest heir. Watch as our intrepid investigators try to escape a dizzying web of clues, silly accents, disguises and deceit as five actors deftly portray more than 40 characters. Does a wild hellhound prowl the moors of Devonshire? Can our heroes discover the truth in time? Join the fun and see how far from elementary the truth can be.
ALT has selected an amazing collection of veteran actors to bring this hilarious show to vivid life on our stage. Included in the cast are Zeke Lewis as Sherlock Holmes and Jeffrey Pickens as Doctor Watson. Actors 1 and 2 are played by Brandon Dawson and Brooks Boyett. Actress 1 will be played by Kara Leimer. Artistic Director for the production is Callie Hisek of WTAMU. Assistant to the Director is Laura Jo Worsham. Costume Coordination will be by Brandon Leal.
This fast paced show will be a laugh out loud treat for the entire family. You won't want to miss it!
Performance location
ALT Mainstage
2019 Civic Circle
George & Andee Barnett
Claire & Paul Burney
Shelley & Mike Cunningham
Nolan & Carrie Huckabay/AAA Electric
Billy & Janie Morgan
Neal Scott/NL Investments
PRODUCTION FUNDING GENEROUSLY PROVIDED BY
Joan & Joe Horn
Art & Rosie Carroll
Ed & Shirley Fancher
ALT Guild