Fun Home
book and lyrics by Lisa Kron
music by Jeanine Tesori
based on the graphic novel by Alison Bechdel
Rated – R for language and mature themes
Performance Dates
February 7 & 14 @ 7:30 pm
February 8, 9, 15 & 16 @ 8:00 pm
February 10 & 17 @ 2:30 pm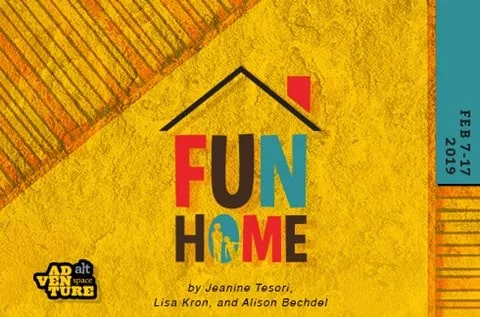 "Heart-gripping and cathartic, FUN HOME occupies the place where we all grew up" (The New York Times).
Winner of 5 Tony Awards, including Best Musical, Best Book and Best Score! 
Amarillo Little Theatre is very pleased to present Fun Home as its third Adventure Space production of the season. This beautiful and captivating show promises to be among the finest shows ever produced at ALT. It is moving, heartfelt and astoundingly honest. After her father dies unexpectedly, Alison dives deep into her past to tell the story of the volatile, brilliant, one-of-a-kind man whose temperament and secrets defined her family and her life. Based on Alison Bechdel's autobiographical graphic novel this is a work of immense power.
ALT has cast a brilliant ensemble of performers for this show. It includes Jacob Miller, Annika Spalding, Jenny Morgan, Taylor Henderson, Victoria Fisher, Piper Laur, Sean Pritchard, Marlee Wall and Ryan Sustaita. Artistic Director is Allen Shankles with Jennifer Akins as Music Director. Caitlin Campbell and Grace Gowdy are Assistants to the Directors.
This show will be one of the best ever!! We strongly encourage our Adventure Space audiences to reserve tickets for this production immediately.
Don't miss the Ovation Series Talk Back event on Sunday, February 10 immediately following the show.
Performance location
ALT Adventure Space
2751 Civic Circle
Claire & Paul Burney
Tracy Cunningham
Michael & Shelley Cunningham
Jane Juett
Lorene Lacer
Chris & Cortney Reed
Stephen & Barbara Russell
Duane & Jeanie Tinkler
PRODUCTION FUNDING GENEROUSLY PROVIDED BY
ALT Guild
Claudette Landess