I Love You, You're Perfect, Now Change
book & lyrics by Joe DiPietro
music by Jimmy Roberts
Rated – R
Performance Dates
February 8 & 15 @ 7:30 pm
February 9, 10, 16 & 17 @ 8:00 pm
February 11 & 18 @ 2:30 pm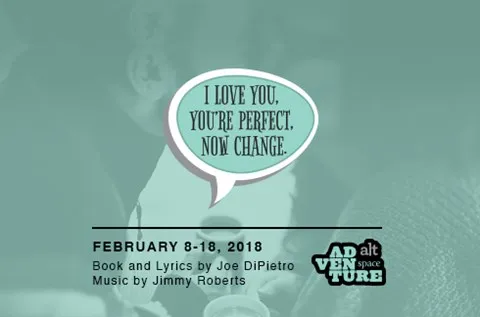 "If this show were a blind date, you'd feel relieved, grateful and pleasantly surprised."
Amarillo Little Theatre is very pleased to present the outrageously funny, musical comedy, I Love You, You're Perfect, Now Change as it's third Adventure Space production of the 2017-18 season!!!
This celebration of the mating game takes on the truths and myths behind that contemporary conundrum know as 'the relationship.' Act I explores the journey from dating and waiting to love and marriage, while Act II reveals the agonies and triumphs of in-laws and newborns, trips in the family car and pick-up techniques of the geriatric set. This hilarious revue pays tribute to those who have loved and lost, to those who have fallen on their face at the portal of romance, to those who have dared to ask, 'Say, what are you doing Saturday night?'
ALT has cast a brilliant quartet of performers for this show. They include Brandon Bellar, Reilly Downes, Jacob Miller and Lindsey Williams. Artistic Director is Allen Shankles with Jennifer Akins as Music Director. Reymundo Montoya is Production Stage Manager.
This show promises to be one of the best of the season!
Don't miss the Ovation Series Talk Back event on Sunday, February 11, immediately following the show.
This show will be a lighthearted and fun evening of theatre!
Performance location
ALT Adventure Space
2751 Civic Circle
Ryan & Kristen Loyd
Terry & David Martin
Ann Moe
Larry Moore
Richard & Jimmie Smith
Pam Webb
Taylor & Lil Withrow
PRODUCTION FUNDING GENEROUSLY PROVIDED BY
Claudette Landess
Bob & Yphon La Roche
Drs. Thomas & Susan Johnson