Into the Woods
Rated – PG
Performance Dates
July 13, 14, 20 & 21 @ 7:30 pm
July 15 & 22 @ 2:30 pm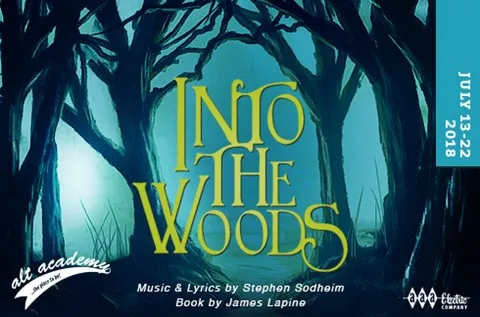 What our patrons are saying about "Into the Woods"…
Had a friend talk me into going to see the Academy production of Into the Woods ….thank GOD I accepted.
I have seen this play at the collegiate level, Mr. Crespin's young folks by far delivered a much more outstanding performance. Wow, just WOW.
I'm now not just an ALT fan, but also an ALT Academy fan. Can't believe I waited so long to finally see an Academy production…my bad.
Thanks for a most entertaining evening.
Tommy Williams ~ Amarillo
The Amarillo Little Theatre Academy and AAA Electric are proud to present Into the Woods as ALT Academy's first Summer musical. This "stripped down version" of the storybook musical is based on several Brothers Grimm fairy tales and has been mounted with boundless imagination in a witty and wild theatrical reinvention of a beloved modern classic.
The story follows a Baker and his wife, who wish to have a child; Cinderella, who wishes to attend the King's Festival; and Jack, who wishes his cow would give milk. When the Baker and his wife learn that they cannot have a child because of a Witch's curse, the two set off on a journey to break the curse. Their travels bring them to interact with characters from Little Red Riding Hood, Rapunzel, and more. Everyone's wish is granted, but the consequences of their actions makes one question happily ever after. ALT Academy has assembled a talented cast of 10 students to bring to life these wonderful and challenging storybook characters. The formidable cast includes Kayden Burns, Tre Butcher, Socorra Carrillo, Rebecca Hartman, Kallie Kilburn, Abigail Martin, Chloe Spellmann, Charles Turner, Conner Unwin, and Ethan Worsham. Academy Director Jason Crespin directs this spellbinding production with Academy Instructor Brandon Bellar serving as Music Director, Tana Roberson as Scenic Designer, and Leigh Anne Crandall as Costume Designer. Academy parent Jeri Tidmore serves as Assistant Director and Preston Moore serves as Production Assistant.
One of Sondheim's most popular works, Into the Woods is a musically sophisticated show that you will not want to miss. Make your reservations today!
Performance location
ALT Adventure Space
2751 Civic Circle
PRODUCTION FUNDING GENEROUSLY PROVIDED BY
Palace Coffee
Facebook Donations
Amarillo Pediatric Dentistry and Orthodontics
Briar Wilcox Law Firm
My Place Hotels – Amarillo & Lubbock
Sparkman Orthodontics
Stockard, Johnson, Brown & Netardus Law Firm
The Ruffled Cup
Martins Sheetmetal, Inc.
FirstBank Southwest
ALT Guild