Joseph and the Amazing Technicolor Dreamcoat
Rated – PG
Performance Dates
September 6, 13 & 20 @ 7:30 pm
September 7, 8, 14, 15, 21 & 22 @ 8:00 pm
September 16 & 23 @ 2:30 pm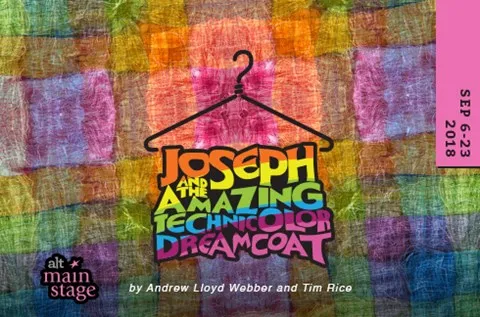 "All I need is an hour or two to tell the tale of a dreamer like you."
Amarillo Little Theatre is very excited to produce the extraordinary Broadway musical, Joseph and the Amazing Technicolor Dreamcoat as its first Mainstage production of the 2018-19 season.  Featuring a huge cast of 46 talented performers, including 19 Academy youth, this show will be a delightfully fun experience for ALT patrons, especially families with children.
Joseph…..is the musical retelling of the biblical story of Joseph and his coat of many colors. It features an unusual mix of musical styles from rock to country, jazz, disco and much, much more.  ALT has successfully produced this show twice and audiences adore it!!!  You don't want to miss this great show.
ALT has cast a phenomenal collection of talent for this production.  It features Michael Froschheiser in the title role and Kelsey Kilburn as the Narrator with newcomer Justin Unwin as Pharaoh. The remainder of the cast includes Beth Alexander, Cinda Alexander, Sydney Berg, Nels Bjork, Tony Brazell, Hayden Brillhart, Kayden Burns, Kyan Burns, Grason Derington, Laken Derington, Madie Evans, Victoria Fisher, Mabry Fristoe, Noah Hartman, Dennis Humphrey, Kaycee Humphrey, Emerson Johnston, Kallie Kilburn, Darby Laird, Sawyer Laird, Phoebe Laur, Piper Laur, Justin Loe, Abigail Martin, Jarret McDowell, Claire McPherson, Connor Murphy, Erin Murphy, Steve Parker, Bodi Parks, Zoë Parrish, Jeffrey Pickens, Stoney Prickett, Sean Pritchard,  Nicholas Shaffer, Amy Shelburne, Bryan Shelburne, Jeri Tidmore, Owen Tidmore, Travis Tidmore, Conner Unwin, Hugh Wilson and Ethan Worsham.
Artistic Director is Allen Shankles.  Music Director is Jennifer Akins with Shawn Walsh in charge of choreography.  Assistant to the Director is Jamie Humphrey and Costumes are by Alexandra Bennett and Sydney Williams.  We are also very pleased to have David Walsh as the Scenic Designer for this production.
Joseph and the Amazing Technicolor Dreamcoat will be "Amazing!"  Make plans to purchase your tickets today!!!
Performance location
ALT Mainstage
2019 Civic Circle
Miles Childers
Melvin & Kathy Edes
Mary Fuller, Leslie Fuller-Meier & Barret Carter
Lorene Lacer
Stephen & Barbara Russell
Robert & Sue Stiles
PRODUCTION FUNDING GENEROUSLY PROVIDED BY
Al & Patricia Smith
Joe & Joan Horn
The CJ & Cyble Fowlston Charitable Trust
David & Sherry Schaeffer
Anne Moe
Karen Williams
ORCHESTRA PARTIALLY UNDERWRITTEN BY
The Josephine Anderson Charitable Trust