legally-blonde-past-show
music and lyrics by Laurence O'Keefe and Nell Benjamin
book by Heather Hach
based on the novel by Amanda brown and the Metro-Goldwyn-Mayer motion picture
Rated PG – 13
Performance Dates
September 12, 19 & 26 @ 7:30 pm
September 13, 14, 20, 21, 27 & 28 @ 8:00
September 22 & 29 @ 2:30 pm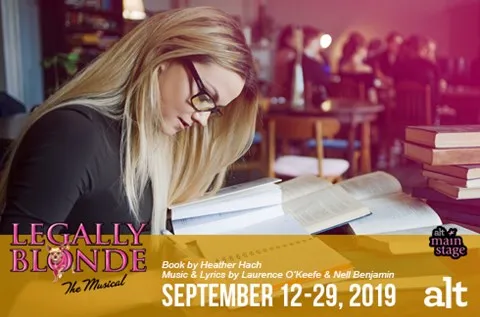 Harvard's beloved blonde takes the stage by pink storm in this fun, upbeat story of self discovery!
Amarillo Little Theatre is very pleased to open its 2019-2020 Mainstage Season with the outrageously funny Legally Blonde – The Musical. This hilarious show has megawatt energy and it promises to be one of the most popular shows of the season.
Elle Woods appears to have it all. Her life is turned upside down when her boyfriend Warner dumps her so he can attend Harvard Law. Determined to get him back, Elle masterfully charms her way into the prestigious law school. While there, she struggles with peers, professors and her ex. With the support of some new friends, though, Elle quickly realizes her potential and sets out to prove herself to the world.
ALT has assembled a brilliant cast for this production. Terry Martin who recently sparkled as Sophie in ALT's Mamma Mia, is playing Elle Woods. The cast also includes Tiffani Barkley, Patrick Baron, Alexandra Bennett, Nels Bjork, Brooks Boyett, Caitlin Campbell, Carol Coleson, Leigh Anne Crandall, Brandon Dawson, Stephen Dillard, Jo Early, Zoe Escalante, Joshua Gibson-Roark, Devenie Graham, Jay Hayes, Kylie Beth Howell, Jordan Humphrey, Kallie Kilburn, Kelsey Kilburn, Regan Mashburn, David Martin, Steve Parker, Elisheba Perkins, Amy Shelburne, Annika Spalding, Ryan Sustaita, Patrick Swindell and Dakota Warren. Artistic Director is Jason Crespin. Music Direction is by Jennifer Akins with Choreography by Beth Alexander. Chriselda Reyes is Assistant to the Directors.
Performance location
ALT Mainstage
2019 Civic Circle
Miles Childers
George Cumming
Danny Nabors
Duane & Jeanie Tinkler
Margaret Willis
PRODUCTION FUNDING GENEROUSLY PROVIDED BY
Nolan & Carrie Huckabay/AAA Electric
Alfred & Patricia Smith
Drs. Avery & Dana Rush
The Dinga/Hollingsworth Group at Morgan Stanley
The CJ & Syble Fowlston Charitable Trust
ORCHESTRA PARTIALLY FUNDED BY