Performance Dates
October 25 & November 1 @ 7:30 pm
October 26, 27, November 2 & 3 @ 8:00 pm
October 28 & November 4 @ 2:30 pm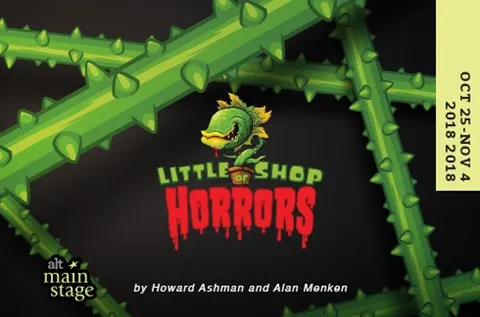 What our patrons are saying about "Little Shop of Horrors"…
Robert and I saw Little Shop of Horrors last night and we loved it! It had phenomenal singing and acting. Everyone was perfectly cast from the ensemble and all the way to the leads. One more weekend to see this show and I would highly recommend getting tickets and catching this show before the run is over.
Courtney Frazier ~ Amarillo
Just attended Little Shop of Horrors, what can I say, but this was a fun, fun, fun evening! Congrats to Jason C. on a very successful Main Stage directorial debut.
David Schaeffer ~ Dimmitt
Feed the need for musical hilarity with this delicious sci-fi smash about a man-eating plant!
A deviously delicious Broadway and Hollywood sci-fi smash musical, Little Shop Of Horrors has devoured the hearts of theatre goers for over 30 years. Howard Ashman and Alan Menken (Disney's The Little Mermaid, Beauty And The Beast and Aladdin) are the creative geniuses behind what has become one of the most popular shows in the world.
The meek floral assistant Seymour Krelborn stumbles across a new breed of plant he names "Audrey II" – after his coworker crush. This foul-mouthed, R&B-singing carnivore promises unending fame and fortune to the down and out Krelborn as long as he keeps feeding it, BLOOD. Over time, though, Seymour discovers Audrey II's out of this world origins and intent towards global domination!
One of the longest-running Off-Broadway shows and winner of the Drama Desk Award for Best Musical, Little Shop Of Horrors will charm your heart with infectious doo-wop songs and endearing characters.
ALT has cast an amazingly talented group of performers for this production.  It includes Brandon Bellar as Seymour, Marley Hoggatt as Audrey, Scott Royster as Mr. Mushnik and Zeke Lewis as Orin, the Dentist.  The Urchins – (Doo-wop girls) are Stephanie Adams, Deanna Hurt and Jeri Tidmore. A supporting ensemble includes Alexandra Bennett, Nels Bjork, Devenie Graham and Jonathan Mobley.  The voice of Audrey II, will feature Devlon Jones.
Jason Crespin is making his Mainstage Directing debut and will also be Choreographer.  Music Direction is by Jennifer Akins, with Scene Design by Tana Roberson.
You don't want to miss this fun musical.  Make your reservations today! Little Shop of Horrorsis recommended for ages 13+. Please be advised that there are mild adult themes and brief strong language
Performance location
ALT Mainstage
2019 Civic Circle
Miles Childers
George Cumming
Rick & Mitzi Dillman
Nolan & Carrie Huckabay
Jerry & Judy Michels
J. Avery & Dana Rush
Robert & Sue Stiles
PRODUCTION FUNDING GENEROUSLY PROVIDED BY
Cenveo
Krause Landscaping
Wolflin Mortgage/Pattilou Dawkins
Rhynehart Roofing