Mr. Popper's Penguins
book and lyrics by Jody Davidson
music by Brett Schrier
from the story by Richard & Florence Atwater
Rated – G
Performance Dates
January 5 & 6 @ 7:30 pm
January 6 & 7 @ 2:30 pm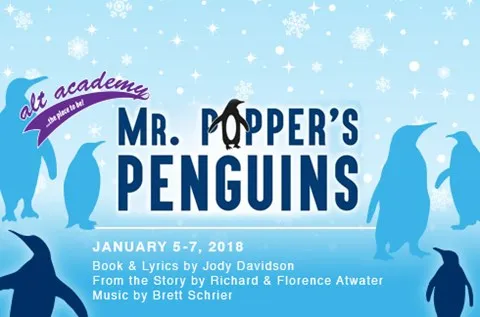 "Now a penguin may look very strange in a living room, but a living room looks very strange to a penguin."
The Amarillo Little Theatre Academy and Stockard, Johnston, Brown & Netardus Law Firm are veryexcited to present Mr. Popper's Penguins as its next production.
Money is tight and times are tough in the town of Stillwater. With no houses to paint till next Spring, Mr.Popper is stuck at home daydreaming of adventures in far off lands, while Mrs. Popper must scrimp and save just to put beans on the table. But with the unexpected arrival of a spirited penguin named Captain Cook, a new horizon opens before them. As a quiet partnership expands into a boisterous flock, the Poppers learn that there's no problem that can't be solved with steady determination, lots of love, and a dash of unconventionality. Join this offbeat family on an unforgettable adventure based on the 1938 classic by Richard and Florence Atwater.
The Amarillo Little Theatre Academy has assembled a terrific cast to bring this beloved tale to life. Mr. Popper's Penguins features 31 of our talented Academy students and is directed by Academy Director JasonCrespin. Carla Fristoe serves as Assistant Director, Maddie Todd as Music Director, Reilly Brown as Choreographer and Kaycee Humphrey and Noah Lang serve as Production Assistants.
Ticket prices are $12.00 for 12 and up and $10.00 for under 12. Tickets go on sale to ALT members on December 18th, to the general public online on December 25th, and to the general public through our Box Office on December 27th. This performance will be taking place at the ALT Adventure Space. Reservations can be made by calling the ALT Box Office at 355-9991 or online at www.amarillolittletheatre.org.
Reserve your tickets now to Mr. Popper's Penguins. You won't want to miss this "toe tapping tale!"
Performance location
ALT Adventure Space
2751 Civic Circle
Insurica/Sona & Lance Wolff
Palace Coffee/Patrick & Krystal Burns
George & Andee Barnett
Sam & Susan Lewis
Chad Harris
Mr. & Mrs. Gabe Irving
BL Bistro/Lizzie Mason
Kendra Bell
Don & Susan Goetz
John & Nancy Turner
AAA Electric/Nolan & Carrie Huckabay
My Place Hotels – Amarillo & Lubbock
Sparkman Orthodontics
Amarillo Pediatric Dentistry
Briar Wilcox
Stockard, Johnston, Brown & Netardus
Law Firm
The Ruffled Cup
FirstBank Southwest
Martins Sheetmetal, Inc.