The Musical Comedy Murders of 1940
Performance Dates
January 18 & 25 @ 7:30 pm
January 19, 20, 26 & 27 @ 8:00 pm
January 28 @ 2:30 pm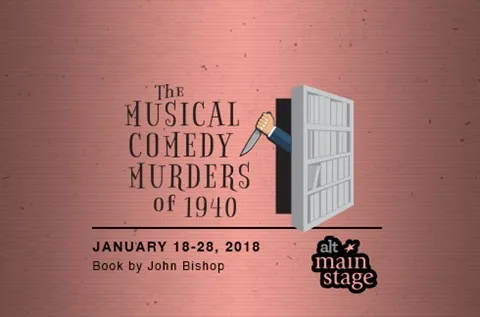 "A nakedly silly and relentlessly convoluted murder-mystery plot, with twists and turns piled on twists till you have to give way and start laughing…….it's hugely enjoyable."
IT'S NOT A MUSICAL!   Despite what the title leads one to believe, this is a very funny play that is part suspense, part who dun it, and part slapstick comedy.  Featuring a collection of ten over the top characters and a very funny script, this play is a must see for ALT audiences.
The creative team responsible for a recent Broadway flop (in which three chorus girls were murdered by the mysterious "Stage Door Slasher") assemble for a backer's audition of their new show at the Westchester estate of a wealthy "angel." The house is replete with sliding panels, secret passageways and a German maid who is apparently four different people—all of which figure diabolically in the comic mayhem which follows when the infamous "Slasher" makes his reappearance and strikes again—and again. As the composer, lyricist, actors and director prepare their performance, and a blizzard cuts off any possible retreat, bodies start to drop in plain sight, knives spring out of nowhere, masked figures drag their victims behind swiveling bookcases, and accusing fingers point in all directions. However, and with no thanks to the bumbling police inspector who snowshoes in to investigate, the mystery is solved in the nick of time and the "Slasher" unmasked—but not before the audience has been treated to a sidesplitting good time.
ALT has assembled a stunning ensemble of actors for this show.  It includes Brooks Boyett, Tony Brazell, Cheyenne Haynes, Marley Hoggatt, Dennis Humphrey, Zeke Lewis, Kristen Loyd, Michael Newman, Ryan Sustaita, Brandon Khamphoumy and Liz Wilson.  Artistic Director is Allen Shankles with Kim Shreffler as Assistant to the Director.
This show will be a lighthearted and fun evening of theatre!
Performance location
ALT Mainstage
2019 Civic Circle
Miles Childers
Mary Fuller, Leslie Fuller-Meier & Barrett Carter
Drs. Thomas & Susan Johnson
Chris & Cortney Reed/Reed Beverage
Neal Scott/NL Investments
Margaret Willis
PRODUCTION FUNDING GENEROUSLY PROVIDED BY
Amarillo National Bank
Pattilou Dawkins/Wolflin Mortgage
EdwardJones Investments
Jack and Phyllis Curtis Foundation