Other Desert Cities
by Jon Robin Baitz
Rated – R
Performance Dates
April 11 & 18 @ 7:30 pm
April 12, 13, 19 & 20 @ 8:00 pm
April 14 @ 2:30 pm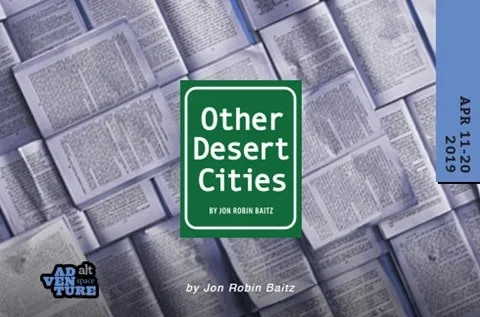 What our patrons are saying about "Other Desert Cities"…
Family reunions can bring out the "best" in many and "Other Desert Cities" may multiply that by 10! ALT Adventure Space continues to amaze us. Great 20 years Allen Shankles at the Adventure Space. Congrats! Now everyone, go see this play!
First let me say the set was magnificent! Easily the best looking set we have seen in a production at ALT and there have been some great sets.
BUT the cast! The acting! The characterizations! The emotion! The intensity. All those things easily overshadowed the set piece. To have everything that you thought you knew turned on its head was amazing. We were just stunned by the cast and the ease with which they navigated the valleys and towering peaks of emotion. Well Done!!
This is my new favorite production. Thank you all for a terrific evening!
John Miller ~ Amarillo
"Astutely drawn….juicy and surprising!"
Amarillo Little Theatre is very proud to present the highly acclaimed and brilliant new play Other Desert Cities as the final Adventure Space production of the 2018-19 season.
Brooke Wyeth returns home to Palm Springs after a six year absence to celebrate Christmas with her parents, her brother and her aunt. Brooke announces that she is about to publish a memoir dredging up a pivotal and tragic event in the family's history – a wound they don't want reopened. In effect, she draws a line in the sand and dares them all to cross it.
This show was a finalist for the Pulitzer Prize for drama and is one of the best written scripts ALT has produced. This family's drama will keep you on the edge of your seat until the final surprising moment. It is a rich and smart drama that will be a spectacular evening of theatre for ALT audiences.
ALT has assembled a fantastic cast for this production, including three new faces. The cast includes Susie O'Dierno, Perry Brown, Kim Shreffler, Marley Hoggatt and Dom Hernandez. Artistic Director is Allen Shankles and Melanie Sanders is Assistant to the Director.
Don't miss the Ovation Talk Back Series on Sunday, April 14 immediately following the performance.
Performance location
ALT Adventure Space
2751 Civic Circle
George & Andee Barnett
Marilyn Brown
Pam Deeds/4 D Construction
Valerie Naugle
Kathie Altman Family
Ralph Wisian
Jeffrey & Bonnie Pickens
Alex & Leslie Stansbury
Dr. Heather Holmes & Rodney Featherston
PRODUCTION FUNDING GENEROUSLY PROVIDED BY
The Sophisticated Sipping Society