Over the River and Through the Woods
Performance Dates
January 17 & 24 @ 7:30 pm
January 18, 19, 25 & 26 @ 8:00 pm
January 20 & 27 @ 2:30 pm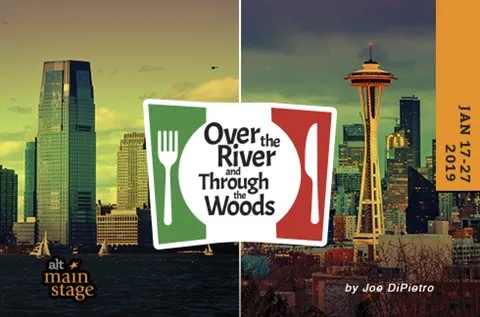 What our patrons are saying about "Over the River and Through the Woods"…
As is our custom, my wife and I attended the opening Saturday performance of the latest main stage show, Over the River and Through the Woods.  I would just like to echo what you said. This show deserves a full house.  I was somewhat embarrassed that my fellow Alt patrons did not show up for this show.  It is an exceptionally good show. Every part of it was good, from the snappy dialogue and comedic timing to the multi-layered story.  Maybe you have to be a certain age to get the story, but I could fully relate to all of the characters.  A great presentation of life, its meaning, and conflicts from multiple perspective. Of course the story would be nothing without exceptional cast and directing.I plan to tell everyone I see to take in this show, even if they have never been to an ALT show.  Please pass along my admiration of the show to all who took part.  I am just sorry it did not have a full house.
What superb acting in Over the River and Through the Woods! We saw it last night and thoroughly enjoyed it. Go and see this show if you can. You won't be disappointed.
Courtney Frazier ~ Amarillo
"A hilarious family comedy that is even funnier than his long-running musical revue I Love You, You're Perfect, Now Change.
From the author that brought us the hilarious musical, I Love You, You're Perfect, Now Change,  ALT is proud to present the heartwarming and very funny comedy,  Over the River and Through the Woods as it's third Mainstage production of the 2018-19 season.  ALT successfully produced this great show in 2004.  It was an overwhelming audience favorite that we are to excited to produce again.
As the story goes, Nick is a single, Italian-American guy from New Jersey. His parents retired and moved to Florida. That doesn't mean his family isn't still in Jersey. In fact, he sees both sets of his grandparents every Sunday for dinner. This is routine until he has to tell them that he's been offered a dream job. The job he's been waiting for—marketing executive—would take him away from his beloved, but annoying, grandparents. He tells them. The news doesn't sit so well. Thus begins a series of schemes to keep Nick around. How could he betray his family's love to move to Seattle, for a job, wonder his grandparents? Well, Frank, Aida, Nunzio and Emma do their level best, and that includes bringing to dinner the lovely—and single—Caitlin O'Hare as bait…we won't give the ending away here.
ALT has assembled a wonderful cast for this production.  It includes Michael Newman as Nick, with Jeffrey Pickens, Connie Cannady, Don Shipman and Kim Shreffler as the grandparents.  Amy Shelburne  is playing the role of Caitlin.  Artistic Director for this production is Callie Hisek, Associate Director of Theatre at WTAMU.
Over the River and Through the Woods promises to be one of the most popular shows of the season.  Audiences will love it!  Make sure to reserve your tickets right away.
Performance location
ALT Mainstage
2019 Civic Circle
Claire & Paul Burney
Tracy Cunningham
Michael & Shelley Cunningham
Jane Juett
Lorene Lacer
Chris & Cortney Reed
Stephen & Barbara Russell
Duane & Jeanie Tinkler
PRODUCTION FUNDING GENEROUSLY PROVIDED BY
Ed & Shirley Fancher
EdwardJones Investments
John & Sally Skaggs