Performance Dates
August 16 & 23 @ 7:30 pm
August 17, 18, 24 & 25 @ 8:00 pm
August 19 & 26 @ 2:30 pm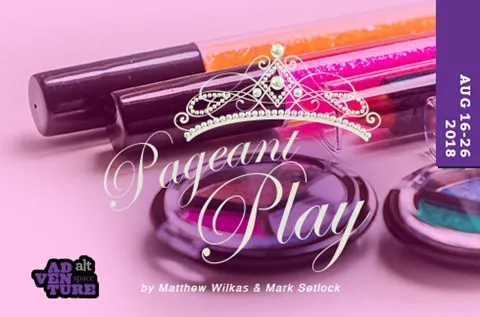 What our patrons are saying about "Pageant Play"…
Objectively, the play ran for 90 minutes. Subjectively, it ran for, at most, 45 minutes. We have never been so entertained and swept along by an play and disappointed that it ended. Very creative staging and characterizations. More please."
"A look into the hilarious, terrifying and surreal world of child beauty pageants"
Amarillo Little Theatre is very pleased to present the hilarious, over the top comedy Pageant Play as its first production of the 2018-19 season. The surreal world of child beauty pageants is an endless supply of source material for deft comedies (Little Miss Sunshine) and TV reality shows (Little Beauties) so it would stand to reason that it would make for a fantastic theatre piece!
Pinky Corningfield will do anything to make sure her little angel wins "Supreme Queen". However, Marge, a newcomer to the pageant circuit, shows up and starts grabbing all of the glory. Pinky and her minions use some unorthodox methods to ensure her darling, Chevrolet, is victorious. Glitz, glamour, kidnapping, money and really small false teeth all contribute to making this show a blast.
ALT has cast a terrific ensemble of performers for this performers for this production. They include Jason Crespin, Richie Garza, Jenny Morgan and Shannon Mashburn. Artistic Director is Callie Hisek, Assistant Professor of Theatre at WTAMU. We are so excited to have Callie making her directing debut at ALT and look forward to working with her more in the future.
This hilaious new play is guaranteed to have you laughing non-stop from the opening cue to the final scene. Don't miss it!
Don't miss the Ovation Series Talk Back event on Sunday, August 19 immediately following the show.
Performance location
ALT Adventure Space
2751 Civic Circle
Lucy Bodkin/Bodkin Property Rentals, LLC
Chad Harris/Signs by Crown
Terry & David Martin
Larry Moore
John & Sally Skaggs
Bob & Mary Jane Sloan
Richard & Jimmie Smith
Suzie Ware
PRODUCTION FUNDING GENEROUSLY PROVIDED BY
Jones Press
Art & Rosie Carroll
George Cumming