Performance Dates
December 7 & 14 @ 7:30 pm
December 8, 9, 15, & 16 @ 8:00 pm
December 10 & 17 @ 2:30 pm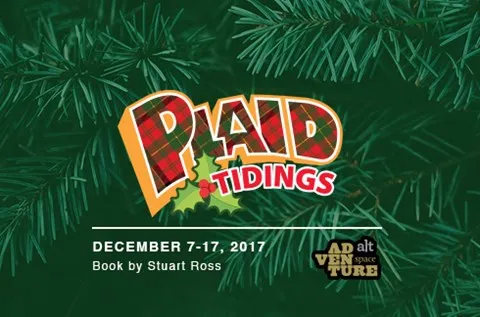 This truly "heaven-sent" holiday treat will lift audiences' spirits and fill them with nostalgia for a bygone era of classic music sung in perfect harmony.
Amarillo Little Theatre is extremely pleased to announce the opening of it's second Mainstage production of the season, Plaid Tidings. This is a brand new show that offers the best of Forever Plaid, tied up in a nifty package with a big Christmas bow on top! Filled with Christmas standards that have all been "Plaid-erized," our boys are back to do their Christmas Special.
At first, Francis, Jinx, Smudge and Sparky aren't sure why they've returned to Earth for another posthumous performance, but a phone call from the heavenly Rosemary Clooney lets them know that they're needed to put a little harmony into a discordant world. Sprinkled among the Christmas offerings are audience favorites, like their riotous three-minute-and-eleven-second version of The Ed Sullivan Show – this time, featuring the Rockettes, the Chipmunks and The Vienna Boys Choir, as well as a Plaid Caribbean Christmas that puts the "Day-O" in Excelsis! ALT has cast a stunning quartet for this production including Justin Loe, Brad Lovett, Cesar Mendoza and Ryan Sustaita. Artistic Director is Andrew Barratt Lewis with Jennifer Akins as Music Director and Crystal Bertrand in charge of choreography. Laura Jo Worsham is Assistant to the Directors and Reymundo Montoya is Production Stage Manager.
Plaid Tidings promises to be a fun and festive Holiday treat for the entire family.
Performance location
ALT Mainstage
2019 Civic Circle
Bob & Denia Brinkman
George Cumming
Kathie Altman Family
Dr. Heather Holmes
Kayle & Dustin Roop/D & D Mattress
Katharyn & Steve Wiegand
PRODUCTION FUNDING GENEROUSLY PROVIDED BY
Ed & Shirley Fancher
Art & Rosie Carroll
Joe & Joan Horn