Rock of Ages
book by Christopher D'Arienzo
music & lyrics by A Bunch of Really Sweet 80's Bands
Rated – R
Performance Dates
February 6 & 13 @ 7:30 pm
February 7, 8, 14, 15, 21 & 22 @ 8:00 pm
February 9, 16 & 23 @ 2:30 pm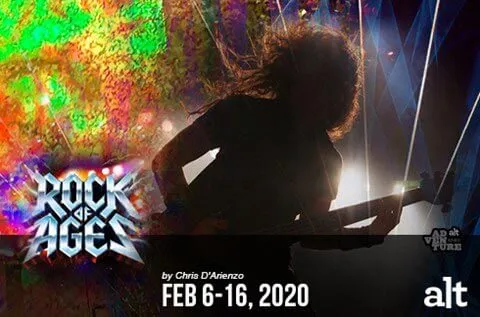 A small town girl and a city boy set out to save rock 'n' roll in the musical "The New York Times" called "absurdly enjoyable!"
Amarillo Little Theatre is very proud to present the highly acclaimed new play, Rock of Ages, as the third Adventure Space production of the season!
It's 1987 on the Sunset Strip, at the immaculately feathered apex of hair metal. Small-town girl Sherrie "Sister" Christian has just moved to Hollywood chasing silver-screen dreams, but finds herself detoured by love and fate when she crosses paths with Drew Boley, afree-spirited rocker who busses tables at the Bourbon Room. When a couple of painfully square real-estate developers threaten to transform the headbanging dive into something more family-friendly, Drew and Sherrie set in motion a plan to raise the necessary funds with the help of bleachbanged rock icon Stacee Jaxx and his band, Arsenal. As the action ramps up, the actors' lungs inflate for more than 25 '80s hits such as "We're Not Gonna Take It", "We Built This City" and "Hit Me With Your Best Shot." ROCK OF AGES was nominated for five Tony Awards in 2009 in categories including Best Musical, Best Costume Design and Best Sound Design.
Artistic Director, Jason Crespin, in collaboration with Jennifer Akins, Music Director and Choreographer Rachel Dawson are working with a phenomenal cast to bring this rockin' musical to life on stage. The cast includes Travis Tidmore, Jo Smith, Steve Parker, Ryan Sustaita, Mikayla Garren, Jenny Morgan, Ethan Murphy, Ryce Garren, Dillon Kizarr, Amber Morgan, Beth Alexander, Nels Bjork, Colin Fields, Devenie Graham, Jay Hayes, Kallie Kilburn, Matthew Payne, Keegan Ruiz, Melea Baker, Marley Hoggatt, Treva Oller and Kelsey Ortega.
Performance location
ALT Adventure Space
2751 Civic Circle
Chuck & Melody Alexander
Jeff & René Brain
Wayne & Lori Craig
Chip & Phyllis Garrison
Mitch Jones
Jason & Jamie Laird
Terry & David Martin
Holly & Steve Parrish
Doug & Evaline Thompson
Christie Word & Daniel Velasquez
PRODUCTION FUNDING GENEROUSLY PROVIDED BY
Reed Beverage
Avery & Dana Rush
Krause Landscape Contractors
Barrett & Carol Pierce
Macaroni Joe's
The Ruffled Cup