Seussical
THE MUSICAL
by Lynn Ahrens and Stephen Flaherty
based on the books of Dr. Seuss
Performance Dates
October 27, 28, November 3 & 4 @ 7:30 pm
October 28, 29, November 4 & 5 @ 2:30 pm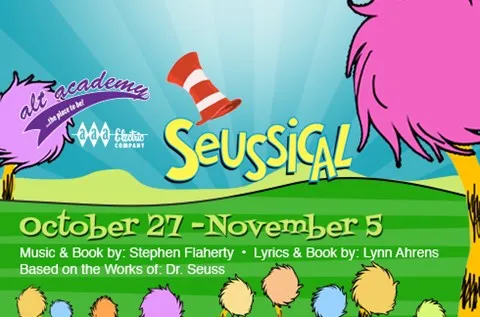 The Amarillo Little Theatre Academy and AAA Electric invite you into the world of Dr. Seuss as we present the fantastical, magical, musical extravaganza, Seussical!
Tony winners, Lynn Ahrens and Stephen Flaherty (Anastasia, Once on This Island, Ragtime), have lovingly brought to life all of our favorite Dr. Seuss characters, including Horton the Elephant, The Cat in the Hat, Gertrude McFuzz, lazy Mayzie and a little boy with a big imagination – Jojo. The colorful characters transport us from the Jungle of Nool to the Circus McGurkus to the invisible world of the Whos.
The Cat in the Hat tells the story of Horton, an elephant who discovers a speck of dust that contains the Whos, including Jojo, a Whochild who gets into trouble for thinking too many "thinks." Horton faces a double challenge: not only must he protect the Whos from a world of naysayers and dangers, but he must guard an abandoned egg, left in his care by the irresponsible Mayzie La Bird. Although Horton faces ridicule, danger, kidnapping and a trial, the intrepid Gertrude McFuzz never loses faith in him. Ultimately, the powers of friendship, loyalty, family and community are challenged and emerge triumphant.
ALT Academy has assembled a terrific cast to bring this musical to life. Seussical features 84 talented Academy students and is being directed by Academy Director Jason Crespin. Academy Instructors Brandon Bellar and Reilly Downes serve as Music Director and Choreographer, respectively, with Scenic Design by Tana Roberson and Costume Design by Alexandra Bennett. Academy parent Krystal Burns serves as Assistant Director with Macey Gibaszek, Velvet Knight and SaVante Wallace as Production Assistants.
"Oh the thinks you can think" when you come experience Seussical October 27th – November 5th! Ticket prices are $18.00 for 12 and up and $15.00 for under 12. Tickets go on sale to ALT members on October 9th and to the general public on October 16th. Reservations can be made by calling the ALT box office at 355-9991 or online at www.amarillolittletheatre.org.This performance will be at the ALT Mainstage.
Seussical is fun for the whole family and not to be missed!
Performance location
ALT Mainstage
2019 Civic Circle
Palace Coffee
Joe Tacos
Old Texas Roofing
Xyngular Boom
The Zavala Law Firm
The Bagel Place
Mr. & Mrs. Gabe Irving
Baum Outdoor Advertising
My Place Hotels – Amarillo & Lubbock
Sparkman Orthodontics
Amarillo Pediatric Dentistry
Briar Wilcox
Stockard, Johnston, Brown & Netardus
Law Firm
The Ruffled Cup
FirstBank Southwest
Martins Sheetmetal, Inc.
ALT Guild
George & Andee Barnett
Chris & Linda Ray