Steel Magnolias
by Robert Harling
Rated – PG13
Performance Dates
February 28 & March 7 @ 7:30 pm
March 1, 2, 8 & 9 @ 8:00 pm
March 3 & 10 @ 2:30 pm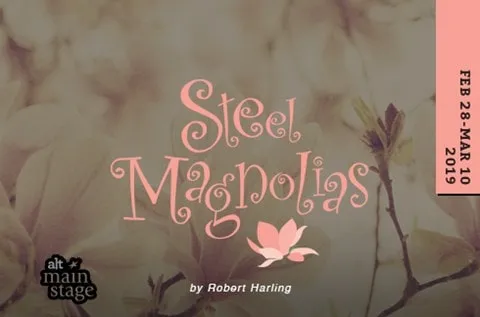 "Laughter through tears…..that is my favorite emotion!"
Amarillo Little Theatre is very pleased to present the hilarious and heartwarming play Steel Magnolias as our fourth Mainstage production of the season.
Every Southern woman knows there are few institutions on earth more importantthan the town beauty parlor. At Truvy Jones' salon in Chinquapin, Louisiana, neighborhood women gather to swap stories, share gossip, and of course, style their hair. But when tragedy strikes, the community comes together in a bond more powerful than ten coats of hairspray. Steel Magnolias is a hilarious, heartwarming portrait of the strength and beauty of female friendship.
ALT has cast a magnicent collection of women to bring this wonderful play to life on the ALT stage. The cast includes Carrie Huckabay, Zoie Hill, Debbie Perry, Anne Lankford, Eunabeth Williamson and Stephanie Adams. Artistic Director is Pegi Lovett with Chriselda Reyes as Assistant to the Director.
This extraordinary show has proven to be an enduring classic that audiences worldwide have embraced with for its snappy one-liners, eccentric characters and very captivating story. You won't want to miss this great show at ALT.
Performance location
ALT Mainstage
2019 Civic Circle
Lori D'Atri
Shirley & Ed Fancher
Thomas & Susan Johnson
J. Avery & Dana Rush
David & Sherry Schaeffer
PRODUCTION FUNDING GENEROUSLY PROVIDED BY
Art & Rosie Carroll
Bob & Yphon LaRoche
Ann Moe
Barrett & Carol Pierce
Al & Patricia Smith