Performance Dates
November 14 & 21 @ 7:30 pm
November 15, 16, 22 & 23 @ 8:00
November 17 & 24 @ 2:30 pm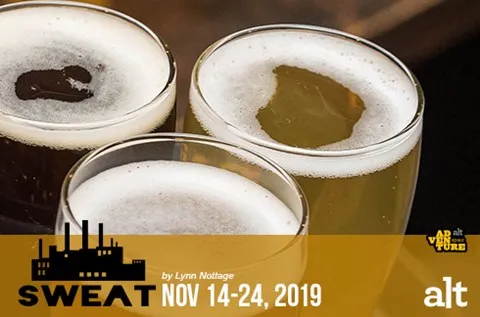 What our patrons are saying about "Sweat"…
Last night, Barbara and I saw ALT's production of the 2017 Pulitzer-prize winning play SWEAT. Bottom line: it was extraordinary! To our surprise, we found ALT's performance to be even stronger and more affecting than the wonderful version we saw on Broadway two years ago. The play itself is a masterful portrayal of factory workers in Reading, PA in 2000 and 2008 going through the upheaval of a major employer moving production out of the US. What astonished us was the exceptional quality that each actor brought to their performances and how thanks to the intimacy of the Adventure Space we were IN the bar with the characters as we experienced the poignant fate of each one. Thank you ALT for daring to bring such a gritty, relevant, and highly-acclaimed work to us here in the Panhandle. And congratulations for delivering it at the highest standards for performance!
From assembly line to picket line, it's more than just a job.
Amarillo Little Theatre is very proud to present the highly acclaimed new play,  Sweat,  as the second Adventure Space production of the season!
It's the year 2000 in the steel town of Reading, Pennsylvania, and all best friends Tracey and Cynthia need are their steady factory jobs, their favorite bar, and each other. But as years pass and a recession hits, hard times at the factory threaten their livelihoods and test the limits of their friendship. Winner of the 2017 Pulitzer Prize, and nominated for the 2017 Tony Award for Best Play,  Sweat takes an unflinching look at life in the industrial working class that has been hailed as "the first theatrical landmark of the Trump era." 
ALT has cast a brilliant ensemble for this production. It includes ALT veteran actors Melanie Sanders and Patrick Burns as well as some very talented newcomers. This includes Kissey Cummings, Kyle Gipson, Brandon Graves, Brandon Dawson, Susie O'Dierno, Derek McDaniel and Dom Hernandez.  Allen Shankles is Artistic Director with Kim Shreffler serving as Assistant to the Director.  
Don't miss the Ovation Series Talk Back event on Sunday, November 17,  immediately following the show.  The Ovation Series is sponsored by Roxann and Kevin Ball. 
Performance location
ALT Adventure Space
2751 Civic Circle
Lucy Bodkin/I-27 Properties
David & Diane Daces
Christie Word & Daniel Velasquez
Michael & Roe Gee
Chuck & Bethany Morgan
Richard & Jimmie Smith
David & Linda Vineyard
PRODUCTION FUNDING GENEROUSLY PROVIDED BY
Ann Moe
Drs. J. Avery & Dana Rush
Art & Rosie Carroll