Sweeney Todd
The Demon Barber of Fleet Street
music and lyrics by Stephen Sondheim
book by Hugh Wheeler
Performance Dates
October 24 & 31 @ 7:30 pm
October 25, 26, November 1, & 2 @ 8:00
October 27 & November 3 @ 2:30 pm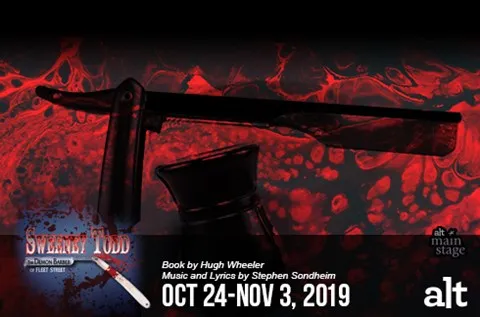 Don't be afraid of the dark…….. 
Amarillo Little Theatre is very excited to present one of the finest musicals in the history of the theatre…..Sweeney Todd!  ALT very successfully produced this show in 2005 at the ALT Adventure space.  It is going to be so fun to present this show on the Mainstage as our newly improved technical resources will give this show an unimaginable new feel. 
Artistic Director, Allen Shankles, has envisioned a bold new concept for this production, which promises to keep audiences on the edge of their seats and maybe running for cover!  A night at Sweeney Todd will offer you much more than just a show……it will be an event!!  We promise that you have probably not seen anything like this on an ALT stage.  Be prepared to enter into a vivid, new experience from the moment you enter the front doors!
Don't be afraid of the dark…….
In a barber shop above Mrs. Lovett's struggling pie shop, Sweeney Todd plots revenge on the lecherous judge who wronged him and his family. In the seedy underbelly of 19th-century London, desperate times lead to diabolical schemes—and strange alliances. With razor-sharp wit and extraordinary music, this Tony Award-winning masterpiece was proclaimed, "more fun than a graveyard on the night of the annual skeleton's ball" by The New York Daily News.
Don't be afraid of the dark…. 
ALT has selected a brilliant ensemble of performers which is more than capable of singing this challenging and beautiful music.  The cast includes Jacob Miller as Sweeney Todd, Kristen Loyd as Mrs. Lovett, Ethan Worsham as Anthony, Anna Bahn as Johanna, Tre Butcher as Tobias, Michael Newman as Judge Turpin, Kayden Burns as the Beadle, Mitchell Hernandez as Pirelli and Kallie Kilburn as the Beggar Woman.  The remainder of the ensemble includes Alexis Bodkin, Grason Derington, Dennis Doerr, Jason Driver, Sarah Dunn, Bradley Hurt, Justin Loe, Abigail Martin, Jonathan Mobley, Amber Morgan, Sean Pritchard and Larri Jo Starkey.  Artistic Director is Allen Shankles with Jennifer Akins as Music Director.  Michelle Roberts is Asst. to the Directors and scenic design is by David Walsh. 
Don't be afraid of the dark…
Performances are scheduled for October 24-November 3. Don't miss this very special theatrical event!
What our patrons are saying about "Sweeney Todd"…
Congratulations on a creating a masterpiece! The cast was fantastic! The sets were amazing and elaborate! Yes, it was dark…but, yes, it was sooo much fun! The "youngsters" certainly were young only by age. Very professional! Realizing the future is in good hands! It is a privilege to be part of the A.L.T. family. Amarillo's got the best theatre! I appreciate all you do to make that happen! Well done and Thank you!
Broadway worthy show! I was completely transformed to Fleet Street the entire time. The set pieces were spectacular, especially the barber chair. The actors, the songs, the performance….everything was wonderfully dark and creepy. I am truly blessed to be a season ticket holder of the best community theatre anywhere. Everyone must see this show. It is a guaranteed masterpiece!
Performance location
ALT Adventure Space
2751 Civic Circle
The Tre Butcher Family
Mary Fuller and Leslie Fuller-Meier
Jerry & Margaret Hodge
Jerry & Judy Michels
PRODUCTION FUNDING GENEROUSLY PROVIDED BY
Ann Moe
Barrett & Carol Pierce/Rio Petroleum
Drs. Thomas & Susan Johnson
Chris Rhynehart/Rhynehart Roofing